About this column
"You guys . . . the blog post is coming from inside The Voice Bureau." Let's talk insider stuff.
I truly love creating and teaching courses for small and solo business owners.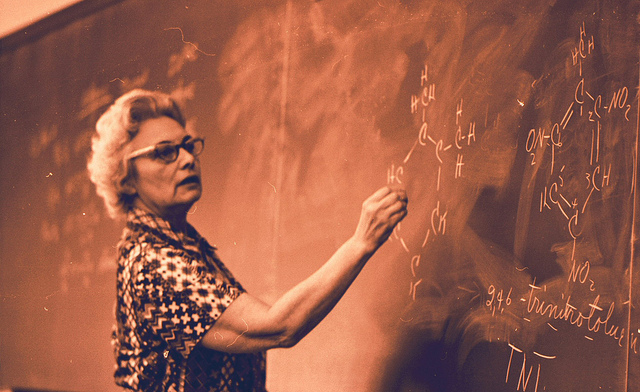 It's the part of my work that makes me feel most alive, most useful, most genuine, and most brilliant.
If you feel the same way about teaching, or suspect you might, then this post is for you. And if you're a solo or small business owner who is thinking of creating courses for your Right People, you'll probably find value in this post, too.
In June 2014, I launched The E-Letter Atelier, what would become my most successful online course to date. And not the most successful in terms of numbers of participants enrolled; that encouraging statistic goes to INFJ Business, which is currently between enrollment sessions. I'm talking successful in terms of teaching for mastery (on the student side), percentage of participants remaining active in the Facebook community and following through until the end of the course materials, and in showing up as an enriching, supportive presence all the way through the course. This course blew all of expectations out of the water for the above points, and made me feel even more excited about future courses I'll create and teach.
Because so many business owners in my circle of clients and peers are teaching courses themselves (or planning to do so in the future), I've decided to share a list of things I learned from my most successful course to date.
Here's what I learned this time around:
1. Set an intention for how many students you wish to enroll, and then settle that whatever number shows up is the perfect number. When I created The E-Letter Atelier, I had the intention to enroll between 10 and 100 people. I know that range sounds insane. I didn't know what to expect — my previous course had enrolled close to 50 people and the course before that, over 100. Because I have a high Input strength and a capacity for supporting a large number of people both quickly and deeply, I knew that I had the "bandwidth" to support any number of people between 10 and 100, given that only a percentage of students who enroll (A) show up to participate, (B) stick around as "regulars" in the community after Week 2, (3) survive the drop-off point around Week 4, and (4) maintain enthusiasm and engagement until the very end. I figured if 20 percent of a class of 100 met all 4 criteria, I'd only be deeply supporting up to 20 students in this launch, and that is doable (for me).
In the end, I enrolled 24 participants for the first live cohort of The E-Letter Atelier, which turned out to be the ideal number, especially when a much higher than average number of them participated all the way through. Which leads me to point number two . . .
2. Presence begets presence. Even though I have a high Intimacy Voice Value, I prefer one-to-many teaching formats rather than 1-to-1. I'm gonna say it — I love lecture and direct teaching. Love. It. I'd like to edit the unwritten assumption that says the best teaching happens through co-creation and collaboration. While there is a HUGE place in the spectrum of teaching and learning for collaboration, co-creation, and a workshop-style approach, what about all of us Verbal-Linguistic and Intrapersonal (self-study-oriented) learners? While I certainly build visual and community (Interpersonal) elements into all of my e-courses, I know my Right People, and like me, they tend to love learning from audio and written materials. So my courses tend to be audio based with written transcripts, reflection questions, visual supplements (charts, tables, pinboards), and a private Facebook group.
But for the first live cohort of The E-Letter Atelier, I included four Studio Hours a week, when I was live in our Facebook group supporting participants' journey with the material: responding to questions, providing clarification, offering real world examples, and having great conversation! We even developed our own inside jokes and moved our conversations to Google Hangouts a couple times for an even more up close and personal connection.
So what I learned here is that even though my favorite way to teach is 1-to-many, that personal connection is a huge asset to learners.
3. Eschew "holistic" for smaller slices that go deeper. The methodically creative business owners who make up my clientele adore anything described as 'holistic' — as do I. 'Holistic' feels respectful, regardful, and high concept. But in action, 'holistic' is really hard to teach well. 'Holistic' is clunkier on the learners' end. 'Holistic' can cause confusion, misunderstanding, and a false sense of understanding that can be potentially injurious to an enthusiastic learner's business.
Instead, focus on a tiny segment of the whole thing you'd love to someday teach. For instance, if you're a life coach, instead of a course on revitalizing your life after 40 (which, by the way, is REALLY SO YOUNG!), what about a course on Recreating Friendships After 40. It's one particular issue within a huge suite of issues your Right People may be facing, and it can be taken on in the relatively short duration of an online course.
In past courses (none I'm currently offering through The Voice Bureau), I've gone to the very, very edges of my scope of practice, always tempted to push just a little further to give people what I saw they really needed (and wanted, and were asking for). But the fact is, more scope usually results in shallower learning and a reduced bandwidth for integrating new ideas. Not what I'm ever going for.
So for The E-Letter Atelier, I stayed rooted in my sweet spot, focusing on understanding one's Right People, owning and honing your business's brand voice, and developing content to meet your Right People's needs and serve your business as the same time. In the context of just the business's e-newsletter, we could go really deep without overwhelming ourselves with scope — both me as the teacher and the Atelier cohort as learners.
4. Repackage and relaunch immediately. For the past year, I've been steadily building out offerings around The Voice Bureau's core methodology, alongside serving clients with web copy and content. As I've pushed to launch course after course (pushed because I love doing it), it's been hard for me, with past courses, to pause and go back to a just-finished offer to retool and redesign as necessary. (Hence, why INFJ Business has lingered in the 'between enrollment' season for yea, these several months.) You know how it is: you get wrapped up in the newness factor and fail to revisit the very good places you've recently been. But with The E-Letter Atelier, I wanted to get it right back on the market. I knew that going in, so instead of treating the first live cohort like an experiment-to-be-retooled, I created as if were timeless — no dates or other time references, and polished intro/outro music with every audio class.
And voilà! It's already back on the market as a self-paced study, with new enrollees joining in every week.
5. Create a dedicated piece of content to use as a "lead gen*" and share it widely. Although this marketing technique is widely taught and done, it was the first time I'd ever done it. I segmented part of the course's bonus content — The Oeuvre of The E-Letter e-book, featuring Q&As with 13 successful online biz owners — and set it up with its own separate opt-in. People who opt-in to receive this complimentary e-book are also subscribed to my Insider Stuff e-letter. And they get an autoresponder of emails (still in creation at the time of this post) to support their thinking about their own e-letter, with occasional reminders that The E-Letter Atelier exists, should they ever find themselves in a season to want some focused support.
*Lead gen is short for 'lead generator.' That's marketing speak for a piece of content, or a technique, that nurtures The Right People's interest in your offer until they are ready to buy, or until they opt out, whichever comes first. :)
Lately I've been working on the next Voice Bureau course, to be launched by the end of this week and to begin by the end of the month. If you are going to sell an e-course or any other type of online service-based offer anytime soon, you'll want to pay particular attention to what's coming next.
In the comments, I'd love to know:
What's YOUR best tip for creating a successful e-course? I'd love to know what you've learned from firsthand experience.
(Image Credit.)