Running a business is hard work.
I've been pretty busy behind the scenes for quite some time, so it's not as if I didn't know there was a lot to do here at The Voice Bureau. But before I took over as owner, Abby was running the show and had me to help her. When I took over…I had me, full stop. And I knew that wouldn't work for very long.
The problem is, I've always had trouble delegating. I was the one in school taking the group project home over the weekend to polish and reformat. I don't ask for help, as a rule. I just like things to be done right, and it's been easier most of my life for me to do them myself. But if you want to build a strong business — not to mention one that's growing — delegation is a required skill.
I needed a Virtual Concierge. And that's where Sara LeHoullier came in.
As a long-time member of our talented copywriting coterie, Sara had already proven herself a formidable wordsmith. I knew I could trust her to handle client communications with warmth, tact, and finesse. She understands digital marketing, appreciates our processes, and is a quick study. I also just happen to really like her — a quality that's key for someone I'll be working closely with on just about every project, both internally and for our clients. Over the past few months, she's been an irreplaceable asset to our team, easing the transition in ownership and keeping us humming along at full speed, supporting our copywriting clients and repackaging every single Voice Bureau course as part of our Summer School special.
And so, without further ado, it's time I finally got around to introducing you to Sara. If you're a current client — or are considering becoming one — there's a very good chance you'll be speaking with her soon.
Sara LeHoullier, Virtual Concierge at The Voice Bureau
MY TOP 3-5 VOICE VALUES ARE:
Helpfulness, Playfulness, and Transparency
[Katie's Note: Discover your own Voice Values when you subscribe to The Voice Bureau's Insider Stuff e-letter.
Enter your best email address below and click Go to get started.]
I DO THE WORK I DO BECAUSE:
I love the neatness of a fully checked-off to-do list. [Katie's Note: Me, too! I'll even add small items to my list just for the satisfaction of checking them off.] I adore crafting emails and writing pretty much anything – and working with passionate, beautiful minds really floats my boat.
OFF THE CLOCK:
I live in the tiny wooded hamlet of Olalla, WA, with my husband, two stepchildren (boys aged 6 and 8 – it's a wild ride!), and our plott hound, Lucy.
COOLEST/BEST/MOST SATISFYING THING ABOUT WORKING WITH THE VOICE BUREAU (SO FAR) IS:
This: since I met Abby and Katie and started following TVB, I have marveled at their way with words – in every context. Not just in terms of copy written for clients, but every communication I received was so thoughtful, so lovingly written, that I felt hugged. I always wanted to be a part of an organization that appreciated the importance of kindness as well as expertise. I think that goes a long way in attracting lovely clients as well, which is always a joy!
FAVORITE THING I NOTICE ABOUT VOICE BUREAU CLIENTS IS:
They truly love what they do, and believe in making the world a better place.
20 YEARS FROM NOW, I WANT TO BE ABLE TO SAY I'VE:
Loved fully and lived joyfully.
THE iPHONE/ANDROID APP I WOULDN'T WANT TO LIVE WITHOUT IS:
Waze – I literally never know where I'm going. And I like that I can change my lil' costumes.
DIGITAL TREND/MOVEMENT/PASTIME I'M POSITIVELY ADDICTED TO:
Binge-watching good (and bad) television shows.
FAVORITE BOOKS/MOVIES/MUSIC/ARTISTS: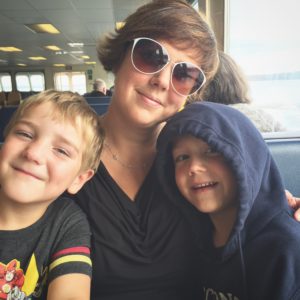 The Sun Also Rises, anything by Saligner, Mary Oliver, Pablo Neruda, Out of Africa (the book AND the film), 30 Rock, Portlandia
PERSONALITY TYPING? WHY, YES. I'M:
Enneagram Type 2 (The Helper) with 7 (The Enthusiast) coming in close second. My Myers-Briggs is ENFP (The Campaigner) [Katie's Note: Nearly the perfect complement to my INTJ!], and my Clifton Strengths are Positivity, Empathy, Woo, Activator, Developer.
MOST PEOPLE WOULD BE SURPRISED TO KNOW THAT I:
Have written two travel guides for Madagascar (I lived and traveled there for a number of years, and I speak Malagasy fluently). [Katie's Note: So cool! It doesn't surprise me at all that you have a knack for language.]
SECRET FANTASY CAREER/OCCUPATION:
Travel guide
I'M FAIRLY INSATIABLE WHEN IT COMES TO:
Cooking shows!
MY BRAND IS ALL ABOUT:
Being yourself.
In the comments, we'd love for you to:
Say hello to Sara and welcome her to The Voice Bureau!
{ 2 comments }