About this column
Crafting craveable content brings your Right People to your doorstep. Maintaining a consistent content plan keeps them coming back for more. Need some help planning? Our ideas can help you get started, scheduled, and sharing.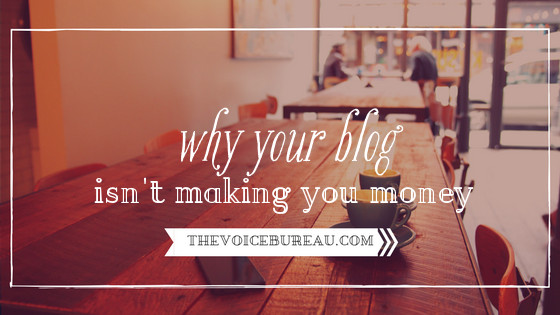 So you sit down at your laptop, latte in hand, brilliant idea burning in your brain.
You've got your focusing candle, you've done your breathing exercises, you're wearing your lucky underpants. You know just what to do.
Step One: Write a great blog post.
Step Two: Hit "Publish."
Step Three: Profit.
That's what's supposed to happen, right?
I mean, if blog posts didn't bring in sales, why would we write them? It's an awful lot of time (and, let's face it, sometimes quite a bit of angst) to write something just for the sake of writing. If I was spending a couple hours every week writing for fun, I might actually finish that novel I started back in 2011. (Don't judge, I'll get there.)
So why is it that you can blog and blog and blog your little heart out and not see an uptick in people buying what you have to sell? Well, there are a few things you might want to consider.
1st: Who are you writing for?
You might get hundreds of views every time you write a new post, dozens of insightful comments, a bevvy of newsletter sign-ups. But your sales page? Crickets.
This can be a tough one to reconcile, because it seems like you're doing everything right. But your Right Person reader and your Right Person client…may not be the same person.
At The Voice Bureau, we have three main ways of working with our clients: through done-for-you copywriting, deep brand voice consulting, and info-packed courses that cater to the DIY set. This opens us up to a few different types of clients, and we can meet them where they are.
But what if we didn't offer those DIY courses?
If we were blogging about tips for writing great copy, we could get hundreds — thousands — of views…but then what? If you want to learn about how to write great copy, there's a pretty good chance you're not looking to hire someone to write it for you. Our blog would be a great resource, and we could see fantastic traffic, but if we're not selling something to the DIYers, writing for them doesn't translate into sales. Obviously.
The Fix:
This is really an opportunity in disguise. You've got tons of DIY readers but no products for them? Make them some products. Not your jam? Then start writing for the people who do buy from you.
2nd: What are you writing?
This is sort of an extension of the first question, but it goes a bit further. Are you writing something that interests you, rather than something that relates to your business? You may have the best damned chocolate chip recipe on the planet, but if you're a tarot reader, your blog isn't reaching the people it needs to reach, and it's not buying you credibility in your field.
That's not to say the occasional post-because-you-love-it is a bad thing — giving a little hint of who you are is a great way to develop a human connection with your readers, both for the purposes of sales and, less cynically, in order to build a community. But if every post is off-topic when it comes to your business, you might as well be working on that novel.
The Fix:
Not to harp on the editorial calendar…but get one. At the very least, make a record of your posts and try to flag every time you're writing something that's not related to what you do with your business. Every post doesn't have to explicitly tie in to a product that's for sale, but most of them should be supporting the idea that you, as a brand, know what you're talking about in your field. Otherwise, get yourself a lifestyle blog and tell us all about those cookies. (My secret is a sprinkle of smoked sea salt on top after they're done baking. You?)
3rd: Where are you writing?
Of course, there's another thing to consider: What if your Right Person client doesn't read blogs? You could be saying all the right things, but the people listening aren't who you need to talk to. In that case, you need to figure out where they are. Does she listen to podcasts on her way into work? Is he addicted to Facebook? Is she a Pinner?
Or does she love blog posts, but hasn't found you yet?
The Fix:
If your Right Person isn't making it to you, you need to go to them. Try a variety of approaches: Pinterest, Instagram, Facebook, podcasts, in-person networking events, speaking, guest posting or cross-posting with sites that have a broader reach. Either you'll find your audience (and a new medium) or they'll find you.
4th: Have you given it enough time?
This is tough, because it's hard to find the line between waiting it out and spinning your wheels, especially early on. And even if you've been at the grind for years, there's a good chance you're not going to see a spike in sales every time you publish a new blog post.
So how long do you wait to see results?
The Fix:
Put on your scientist hat. There are lots of things to try (see #1-3, above), and all sorts of possible variations. But the more you try, the more you'll know about your Right Person client, and the more directly you can speak to her. There is no "magic number" for how many posts you need to put out there before you start getting traction, but if you've been at it for months without a single inquiry, maybe it's time to mix it up a bit and try something new. 
We'll be opening sales soon for the upcoming cohort of Run Your Business Like a Magazine: our four-week online course where we'll dive deeper into discovering your Right Person, where to find her, and how to create an editorial calendar that speaks directly to her (and encourages her to buy from you). If you're interested in exploring how you can turn your content plan into sales, make sure you're on our mailing list to be notified when registration opens. To celebrate the start of a new year and my new role at the helm of The Voice Bureau, we'll be offering a special discounted rate for this round — you don't want to miss out!
In the comments, I'd love to hear:
Do you see a direct tie between your blog posts and your sales? If not, where do you think you're getting stuck?